Spy tools and new players on the market
A spy service is a reliable and effective tool that allows affiliate marketers and targetologists to be aware of their competitors' ad campaigns. These specialists can see their advertisements and use similar approaches in their own work.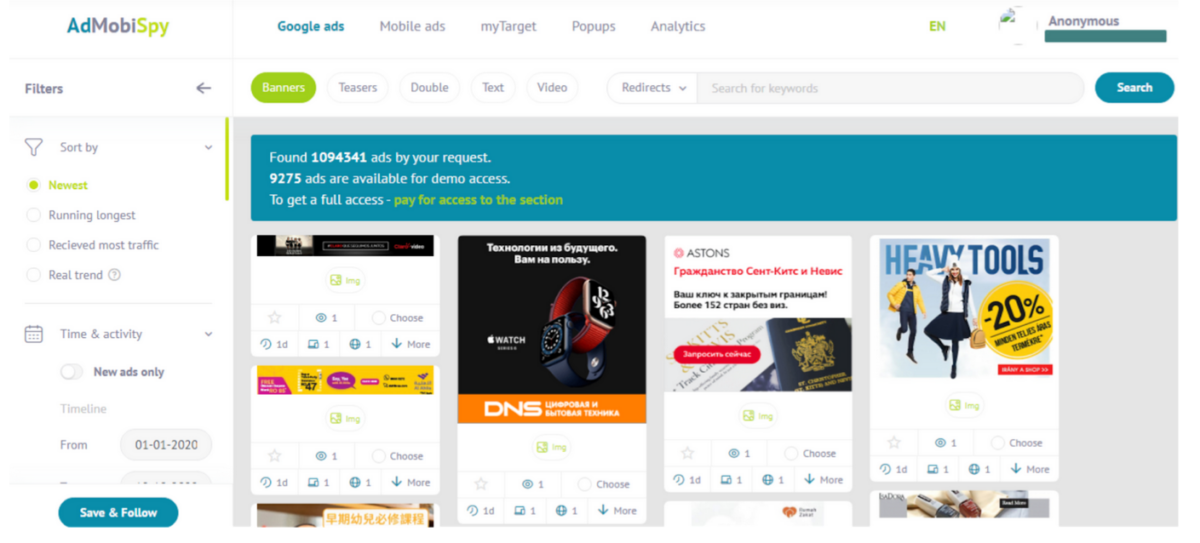 Capabilities of spy services
If you are able to master spy tools and understand their software, then you can:
Find popular key requests;
Get the main info on competitors' ad campaigns, e.g. target, geo, domain;
Find working and profitable bundles;
Be one of the first to find offers with potential and get all the "cream";
Analyze ad campaigns and get timely reports;
Find geos with potential;
Collect info on leads and the lifetime of ads;
Once a webmaster determines his source of traffic, he then has to select the spy service designed for the source.
How can an affiliate choose a spy service
The basic functions of all existing spy tools are quite similar. However, each one has its own specialization (this often depends on the traffic source). For example, the AdPlexity spy service offers a number of individual solutions for mobile, desktop, push and native formats. Decide on your niche and vertical, read guides and cases in the relevant media, forums, Telegram channels and chats. If a service is often mentioned in discussions, it is probably worth testing out. Many services offer a testing period so that you can assess the product.
Important! Experienced webmasters recommend avoiding low-cost spy services. Cheap solutions are often limited in their functionality and do not solve all the tasks the webmaster has.
Listed below are the main functions of a spy tool that an affiliate marketer will definitely need:
The availability of ad filters – by vertical, by traffic type, by GEO, etc.;
Detailed info on the market and the traffic;
Extended search settings;
The capability of viewing the call to action in campaigns;
The capability of viewing and downloading copies of landing pages and prelands;
The possibility of downloading creatives for future use;
Viewing competitor offers.
By using this type of tool you should keep in mind that the most common rookie mistake in affiliate marketing is copy-pasting ready-made bundles. Also, certain bundle elements can be  "disguised" from spy software, thereby creating additional security. A correct algorithm for using spy tools:
Develop the approach. Find an offer with potential.
Download and prep the landing lage.
Launch the "spy" campaign.
Analyze the gathered data.
Devise tactics and strategy.
That said, you should pay attention to "borrowed" landing pages from the web, since they often yield unforeseen problems:
Copy protection;
Damaged codes;
An overexploited structure.
Creatives need to be improved and tested. You occasionally need to switch up buttons, change fonts, play around with backgrounds, etc., thereby doing split-testing.
A selection of popular spy services
Traditionally, spy tools are differentiated by 4 criteria:
Geo;
Placement;
Ad platforms;
Subscription cost.
Affiliate marketing is a dynamic industry in which trends, algorithms and approaches can change every month, and more often at times. The same goes for new automation programs and services, which facilitate affiliates' work. But despite all of that, at the time of writing this article, no new "James Bournes" emerged in 2022 in the spy tools niche. Thus, you will have to make do with what is currently available. Here's a list of popular spy services that should be considered by rookie and professional, alike.
Spy tool for Facebook, Google Ads, native networks, etc.:
Facebook Ad Library  — a free official tool.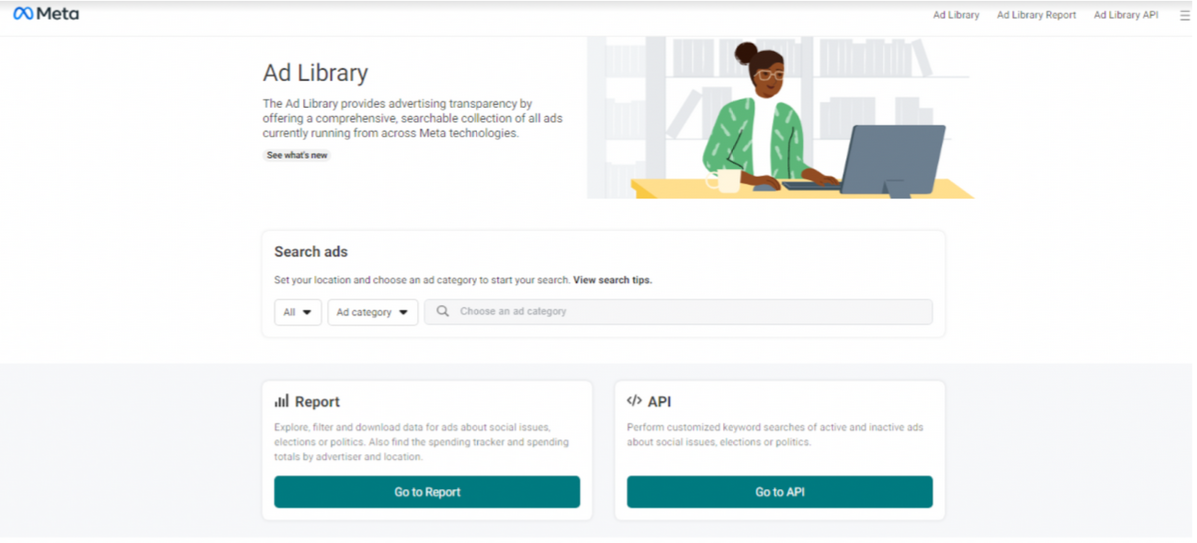 PowerAdSpy — from $49. Enables the webmaster to monitor ads on FB, IG, YouTube, Google Ads (competitor ads in Google search results and banner ads), Quora and Reddit. On the market since 2017.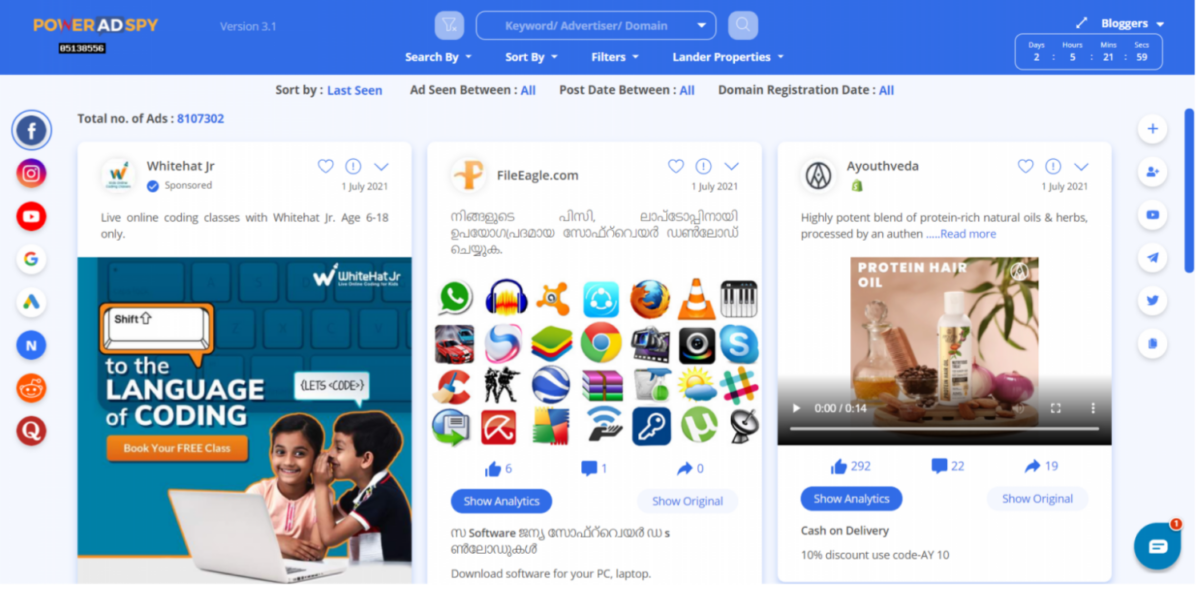 AdHeart — from $53. Thanks to maximally up-to-date data, it is used by affiliate marketers far more often than other paid spy services. There are almost 1 billion creatives in the database, and it is increasing with 30 million new ones daily.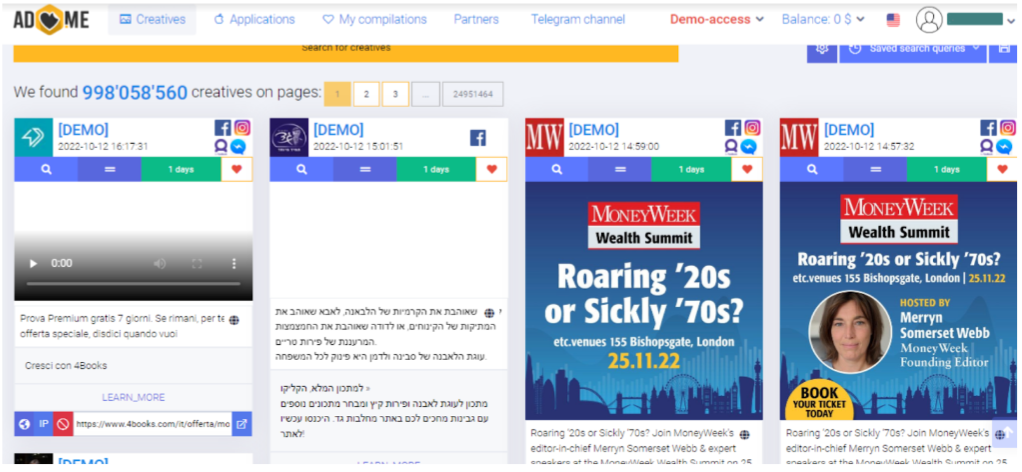 AdMobiSpy — from $49. A mobile traffic tool. It can monitor 6 popups and over 20 ad networks, including banner ads on Google Ads, myTarget and VK.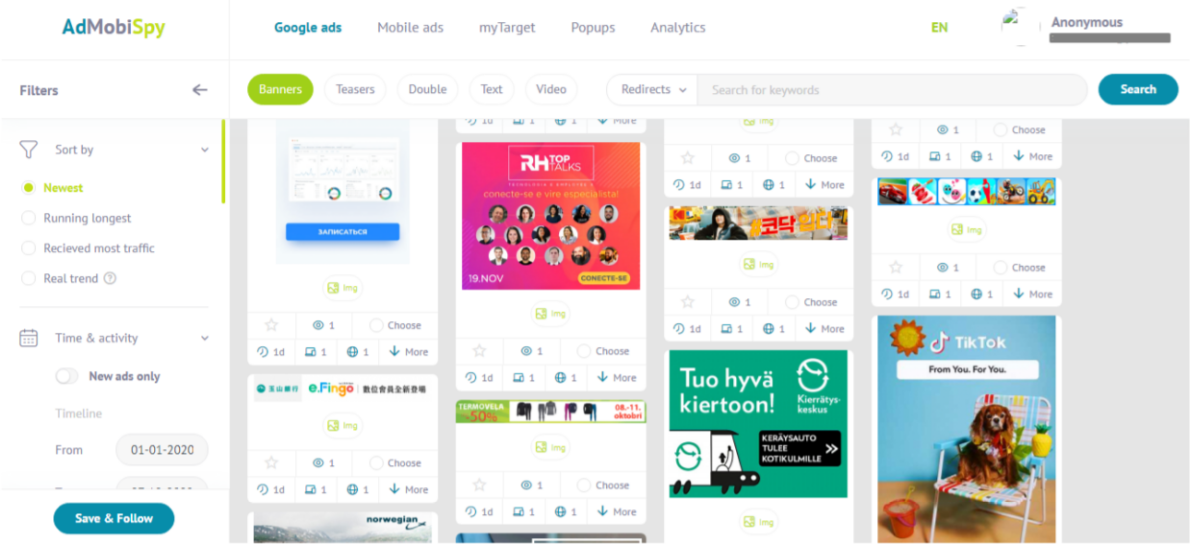 AdSpy — $149. One of the largest advertisement databases for FB and IG. Large selection of filters available.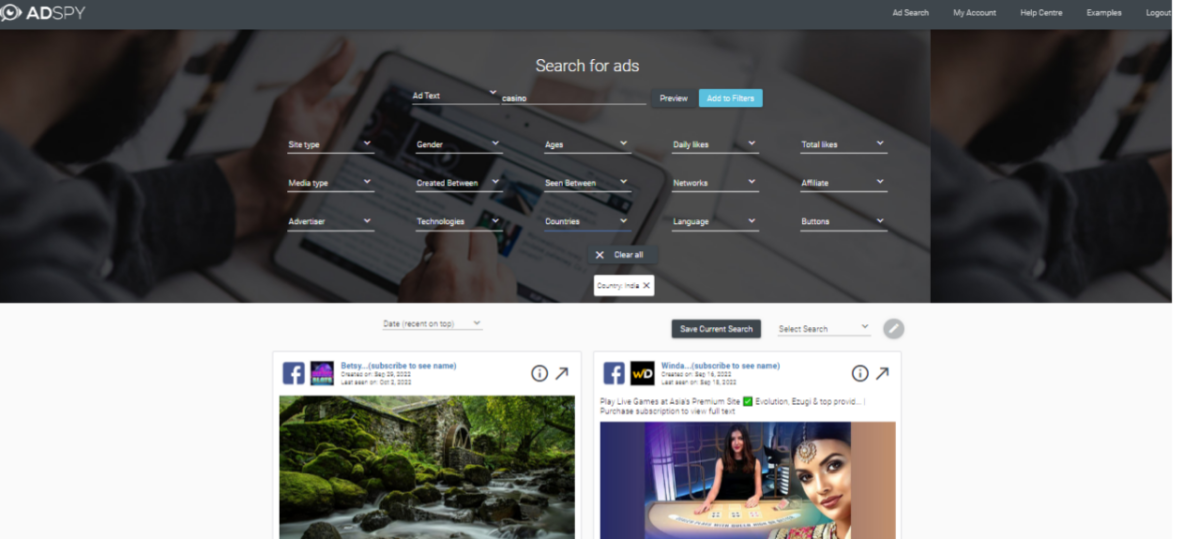 AdPlexity — from $199. Operates with mobile, desktop, native, push and e-сommerce advertising.
Spy services for push traffic
Pushycat — from $40. This service collects data from 6 large networks, including MegaPush, Evadav and Datspush. On a daily basis the library is added with up to 15 thousand new creatives.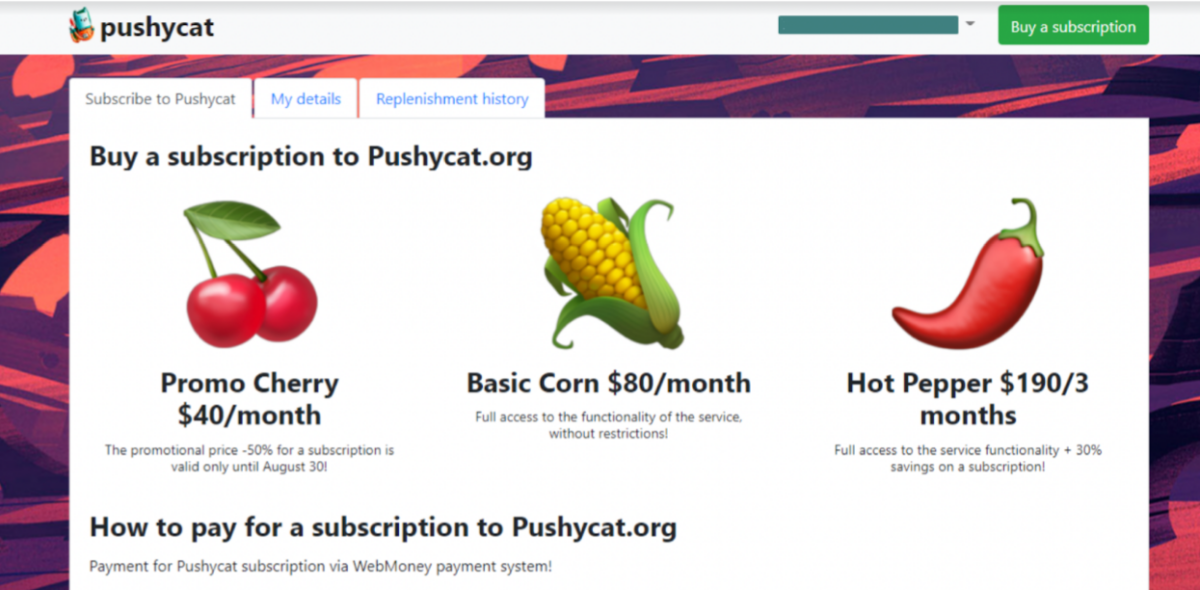 Anstrex — from $59.99. This is a non-Russian Internet spy service, designed specifically for affiliate marketing. It enables you to wrk with landing pages without having to download them onto your PC. The database provides access to 92 countries and ads from 38 native push networks.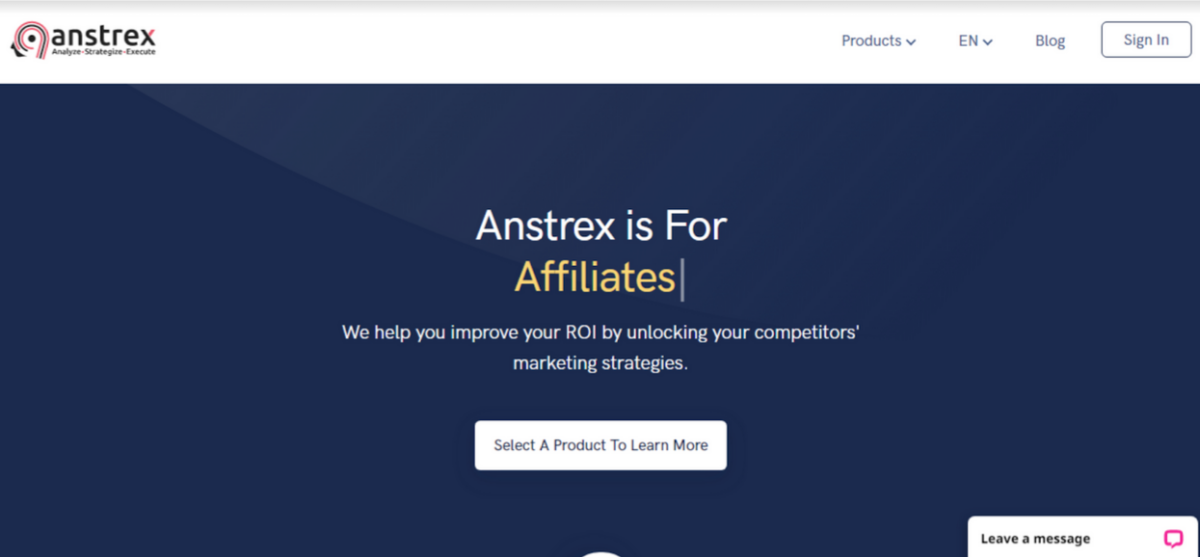 Megaspy. A free service from MADCPA for monitoring push ads. It tracks DatsPush and MegaPush activity across 100 GEOs.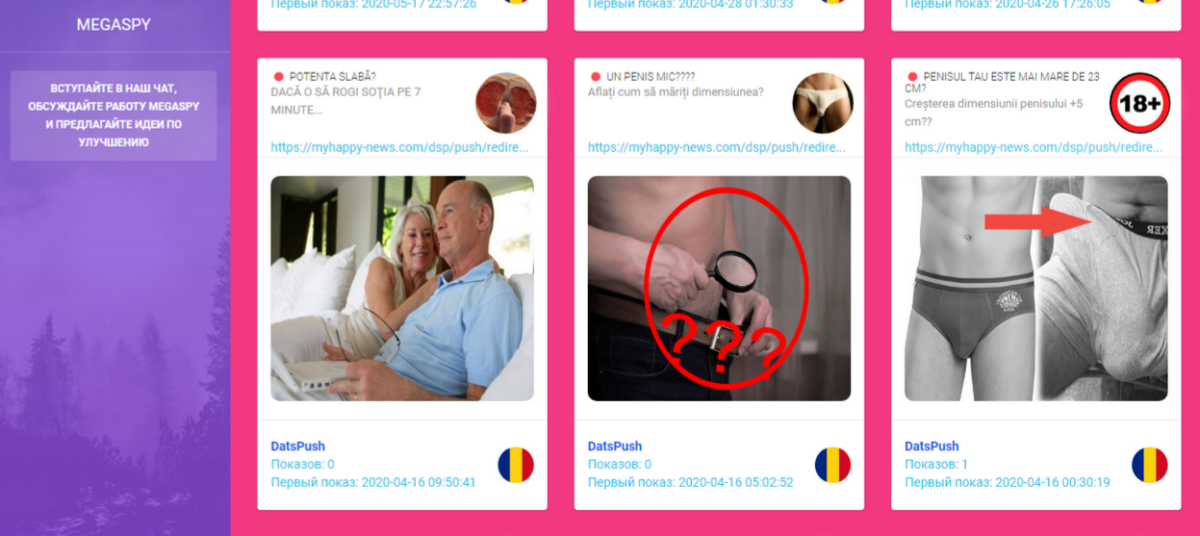 Spypush — from $49. Works with libraries from large networks, refreshing search results on a daily basis. It features configurable search, searching for profitable bundles, the capability of creating a selection of favorite creatives and creative libraries. Accesses 95 geos.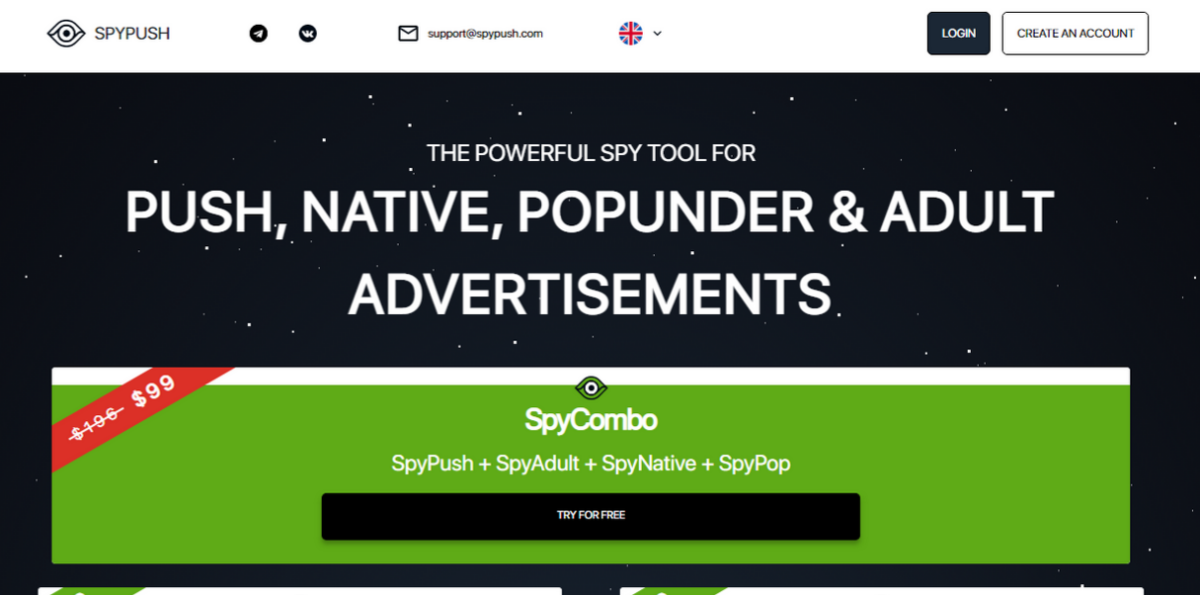 Spy-сервисы для TikTok
TikTok Creative Center. TikTok's own library of creatives designed to inspire authors to create trendy videos. Free access.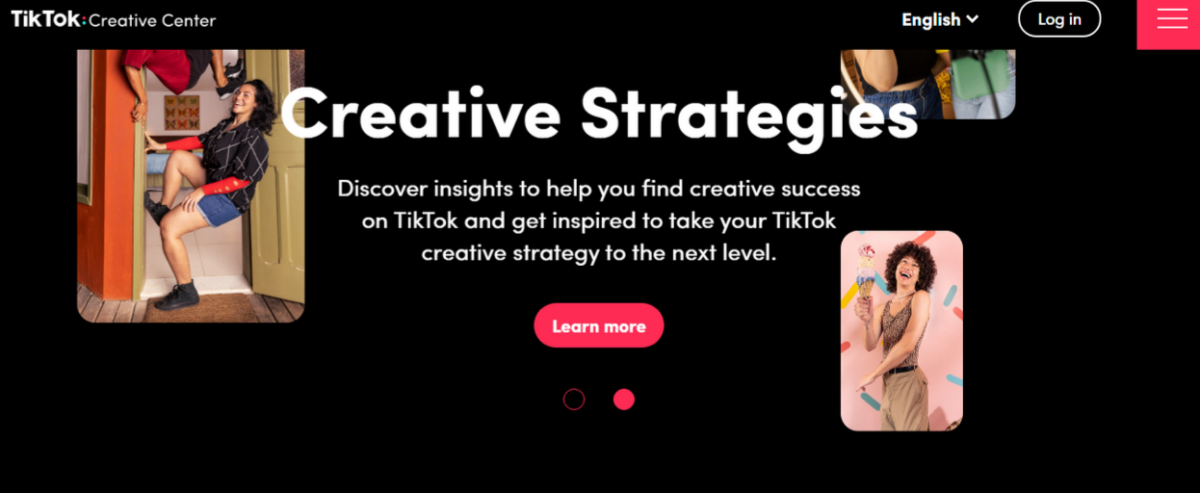 BigSpy — from $9. A database with over 600 million ad creatives from popular ad platforms, including Google AdMob, TikTok and Unity.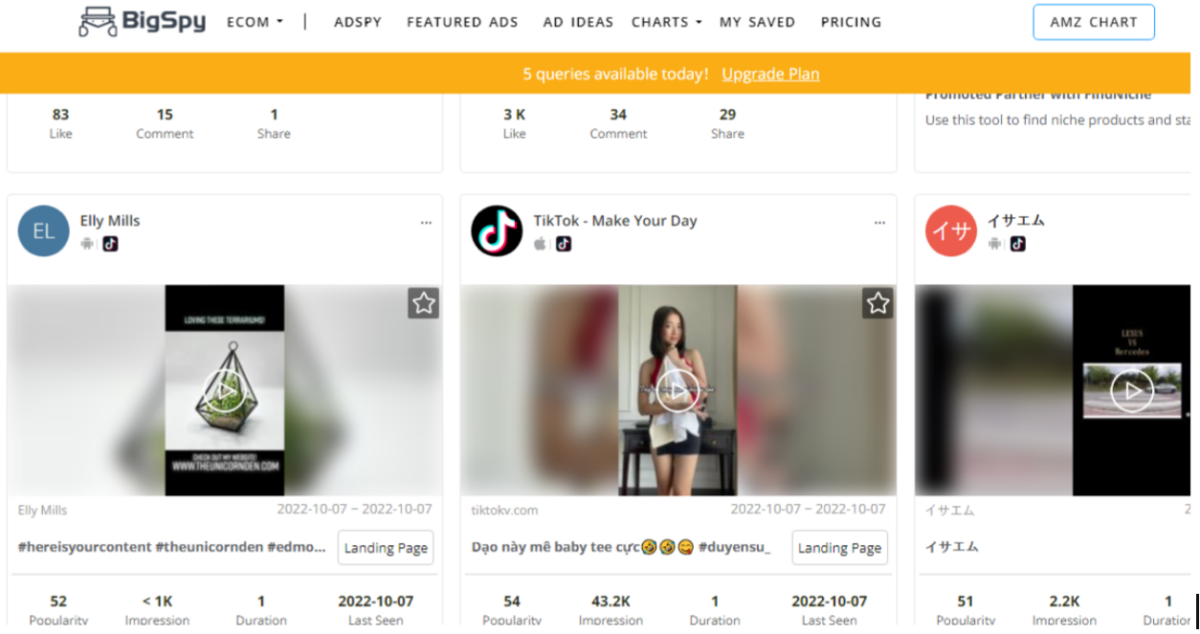 TikTokSpy от IxSpy. A free spy service to monitor the activity of bloggers with filters by hashtag, effect, video, music, etc.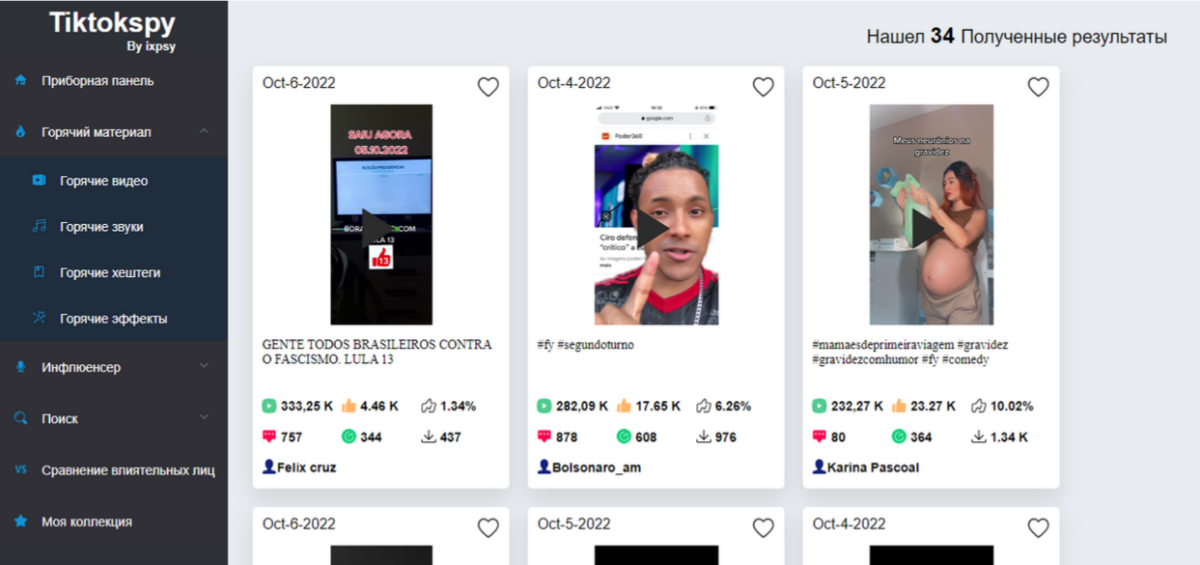 Summary
Spy services are reliable guides for rookies, as well as professionals. The task of these tools is to find original bundles with potential. Working with this type of software isn't complicated. However, you need to master this skill, understand the basic principles, test it out and start generating profit.
To comment or rate this article please login or create account