What's Swanker? [briefly]
Swanker is a Ukrainian affiliate media platform with analytics and statistics.
What's on the platform:
Meetmarket with direct ads from brokers, networks and affiliates;
Statistics;
Tools (ready-made creatives, payment solutions, contractors you can find yourself a copywriter, translator, other creatives.
Getting to know the platform
Basic icons:
Affiliate;
Broker;
Network;
The verification checkmark means that the affiliate has been checked and confirmed by the platform's admininistrators.

Next, let's walk through the headings.
---
Statistics
Latest stats in the form of a detailed table with CR and GEO from brokers and networks. Updated monthly.

Click on any performer in the table and you'll get to see their page in the Swanker directory. There we've collected the most valuable info: who they are, what they are known for, how they work, how they pay, and where they get their traffic from.
Click on the funnel — and you'll start downloading the landing page which in fact has earned the conversion.
Important for networks*
In order to start working on the platform — it is mandatory to fill out:
logo;
website link;
description in bio.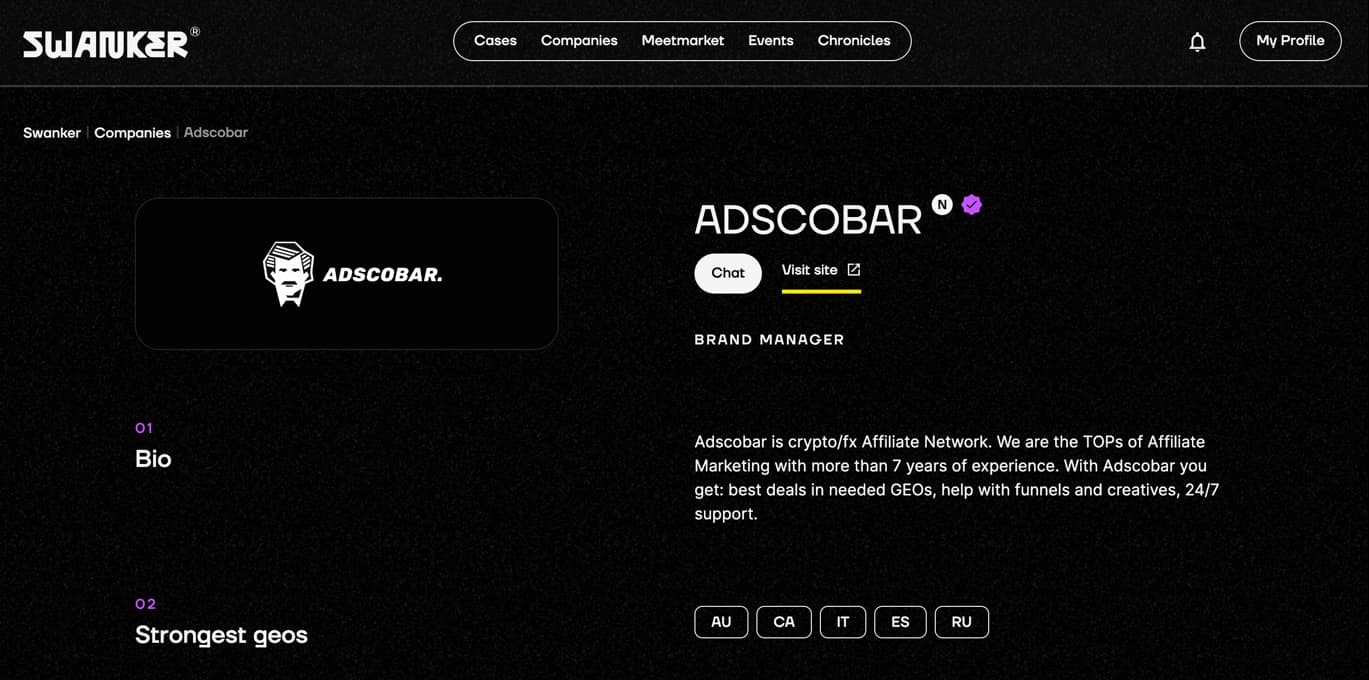 ---
Meetmarket
A stop-and-shop mini-marketplace in the affiliate industry. Networkers and brokers create requests for geos you wanna target, how many leads they want, and what model they're willing to partner with, and affiliates sell their top geos in turn. Any questions? Start chatting in one click. You can even attach a screenshot of your stats, well, just in case anyone asks.
Please note! Anyone can create up to 5 Meetmarket requests at a time. We recommend updating them every two weeks.
Have doubts about whether you should work with a pre- or postpaid partner? See if they have a verification checkmark. Only partners verified by platform administrators receive it.
When adding your company to the catalog, make sure all the fields are filled in. If you are a broker or represent a network, put all names and links to websites.
Accounts without a completed profile are switched into an invisible mode, and users can no longer see the company in our directory. If a user is reminded to complete their profile info and the reminder is ignored, the account is deleted permanently.
---
Tools
Ready-made creatives, pre-landing, and landing pages. All you need to do is scroll and download the ones you like. If you need to add a pinch of personalization, you can find contractors on the very same platform — copywriters, designers, and other creative ppl.
---
Cases & news
How to increase the conversion rate, which tools to use, what geos to direct traffic to — and much more on our blog. Updated with new cases on a regular basis. Everything is confirmed by stats, charts, examples, and creos.
In the news section, find the latest updates from the field, guides, and a deeper look into the inner workings of brokers and networks.
---
Responsibilities
We do not bear responsibility for your collaboration with affiliates/networks/brokers you find on the Swanker platform.
Swanker is an aggregator platform. This means that we work as a resource for offer placements, and we are not responsible for any affiliate's performance or their response rate.
Unfortunately, we won't be able to help you in case an affiliate directs fraud traffic or a network shuts down.
At the same time, we do everything we can to make the platform as safe and transparent as possible and to protect our users from financial and reputational losses. That is why take all reports and potential abuses into consideration and make sure that dishonest players do not have access to the platform.
And we could really use your help. If you notice any suspicious activity on the website, please report it to our support team right away.