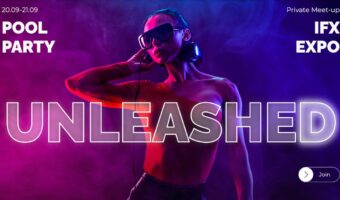 Sep 20–Sep 21, 2023
Cyprus
Offline
IFX Party
What's going on
🔥 Join us for the Pool Party at IFXEXPO! 🔥
An unforgettable evening awaits you at Private Meet-up, where like-minded individuals in the Crypto/FX sphere come together to unwind, enjoy the pulsating music, and the cool breeze!
Imagine the sounds of our DJ mixing with the cheerful chatter, your favorite hookahs ready, cool cocktails filled, and the air brimming with opportunities for new deals and strengthening bonds, expanding your business network!
📆 Dates: September 20-21
📍 Location: Limassol, Cyprus
🌞 Hot weather is predicted. Don't miss the Hottest Pool Party of the year!
📅 Event Schedule:
– 🕛 September 20-21
– 🤝 Networking/Meetup from 12:00 to 23:00
– 🎉 Pool party kickoff after 23:00!
Highlights:
– 🤝 Networking spaces
– 🍴 Catering
– 💨 Hookahs
– 🍹 Soft and alcoholic drinks
– 🎵 Relaxing music