$10,000 earned on crypto with 87% ROI: how the "kangaroo" country works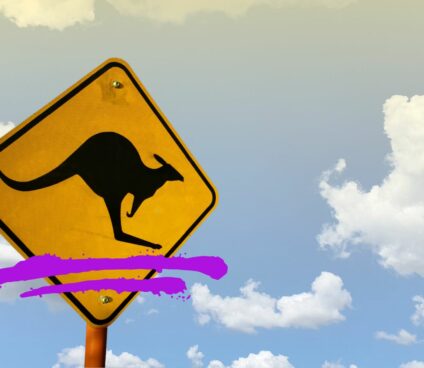 Choosing an offer
Before we even started, I'd asked the manager everything I was interested in: what traffic sources can be used, what the tracker options are, and explained our minimum for payments per country.

He suggested offers on the GEO we used to work with, showed us where the best CR was, which call center is faster to process leads — and whether they work on weekends. You better clarify this, because many call centers only work on weekdays which affects the leads.

Finally, we stopped our choice on the BTC Bank offer and Australia geo.

BTC Bank is a black hat offer, auto trading. The user is invited to invest in bitcoin, and the auto trading bot will help them close deals.

The offer isn't new, but it works well. People will always want to learn how to make money from trading, and the easier it is to do, the more tempting it seems. And knowing full well how such offers work, we wanted to start with just such a one.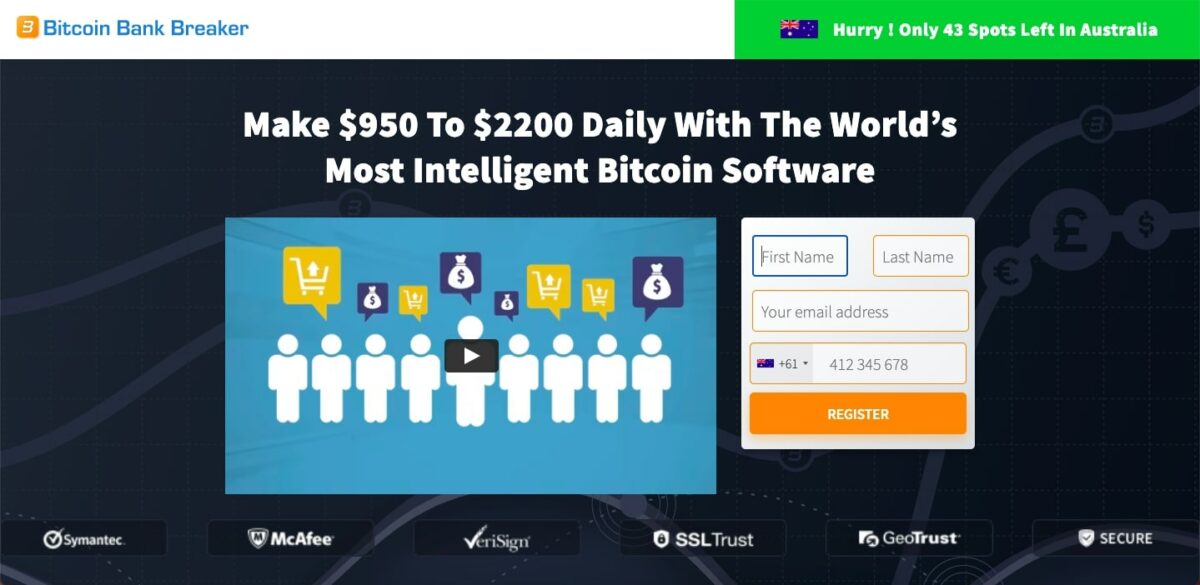 Since it is a black hat category offer, you need to design a landing page and come up with creatives. The affiliate offers its own materials and pre-lands. The rate is $950, but we were promised a bump of +$50 if we had good volumes in the first week.

My team and I were going to play big, so it wasn't a problem for us. In addition to the bump before the launch, we agreed on a weekly payment, which helped us increase traffic volumes after the first test.
On working with pre-lands
We could use 15 pre-lands on this offer. Of course, not all of them were perfect but whatever. We decided to test one of their landings and made another one — a different one but also with news content.

The test lasted a week, and the results after the tests were almost the same: one deposit per period. It cost us $319, which was quite acceptable for such traffic. But we decided to stop on our landing because we trusted it more and weren't that scared of losing traffic.

This is how the landing page looked like, with no changes made by us. We only added more CTAs and asked to slightly correct the grid.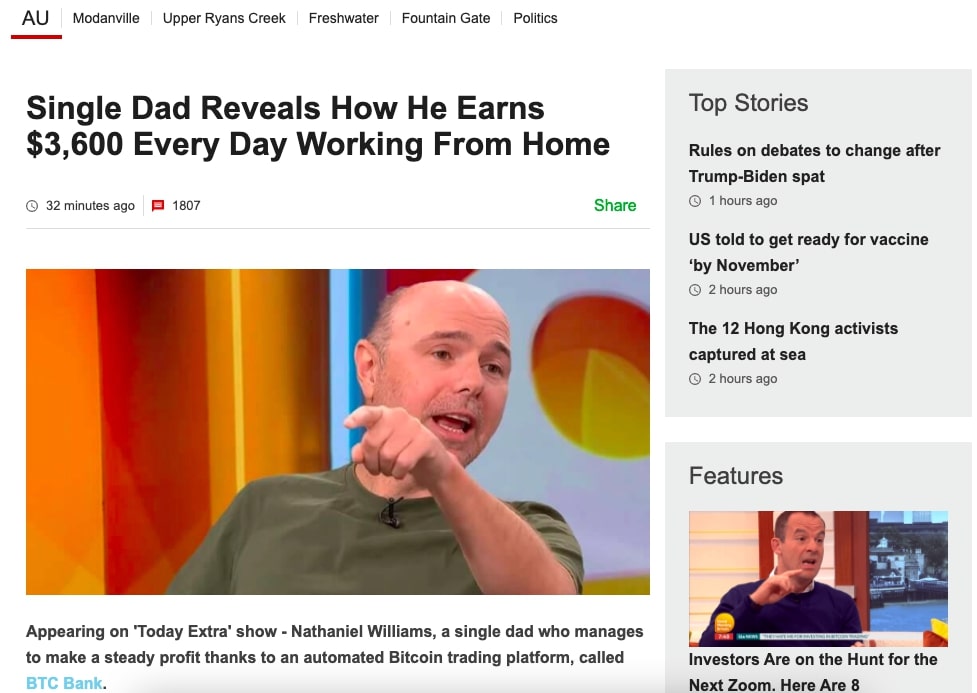 Our pre-land: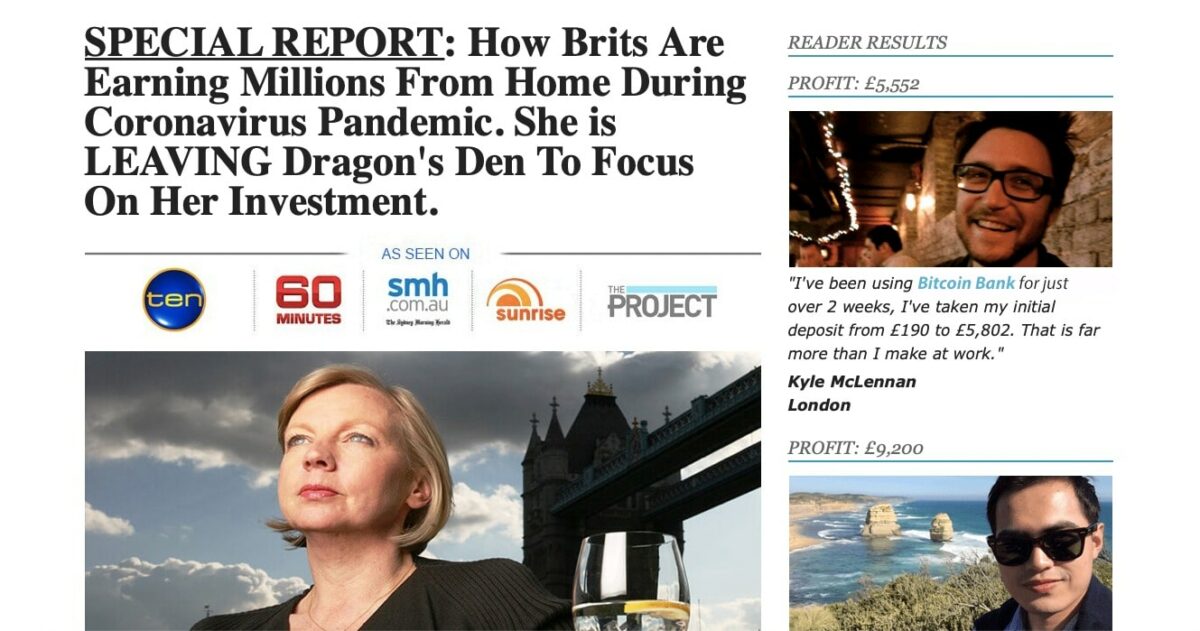 The pages here are bright and come with flashy headlines that work well together with push messages. A couple more examples were offered by the affiliate. They're not that bad and maybe for your traffic they will show better results: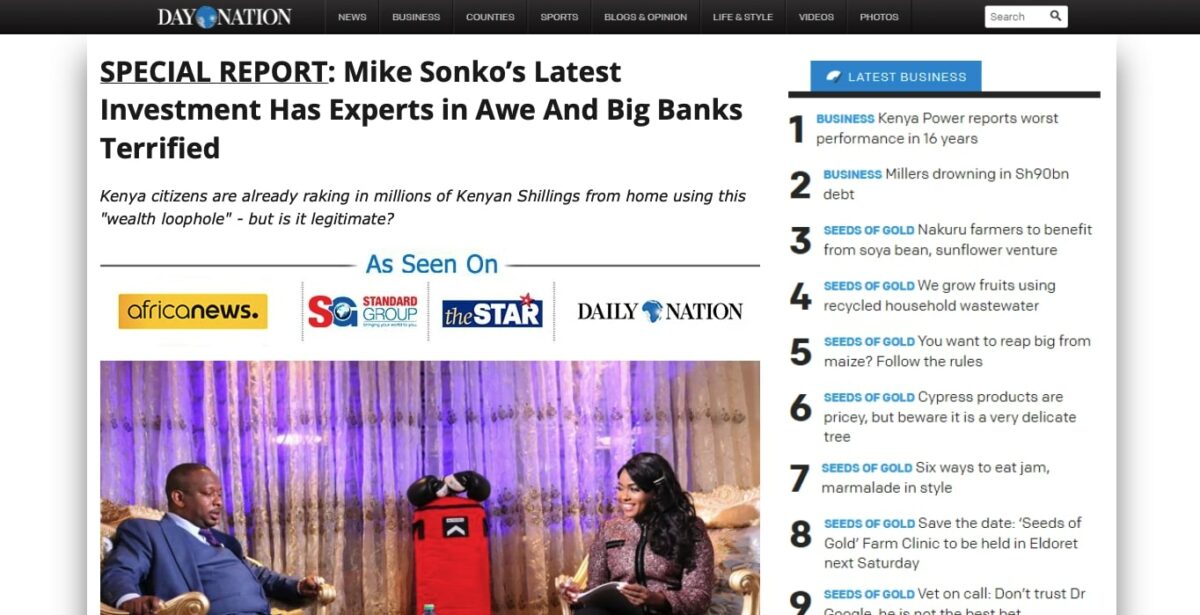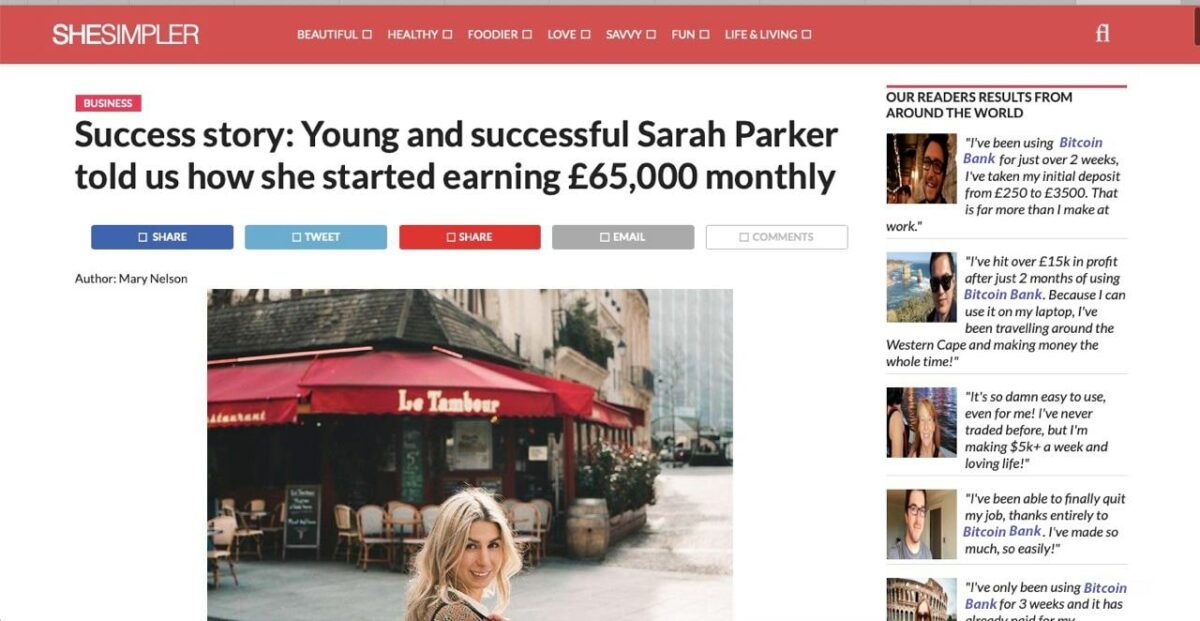 Creatives
We used spy services to see what converts better and what triggers can be used. As usual, for financial offers, these are the images of money (the more the merrier), sexy girls, and luxury items.

We didn't do a lot of creative work, because we had to test the pre-lands. Plus the GEO here was complicated, we didn't know how the traffic would work.

Example #1:
Title: Australian shocked everyone by revealing how he earns 1000$ daily.
Description: The most profitable method became available for Australians.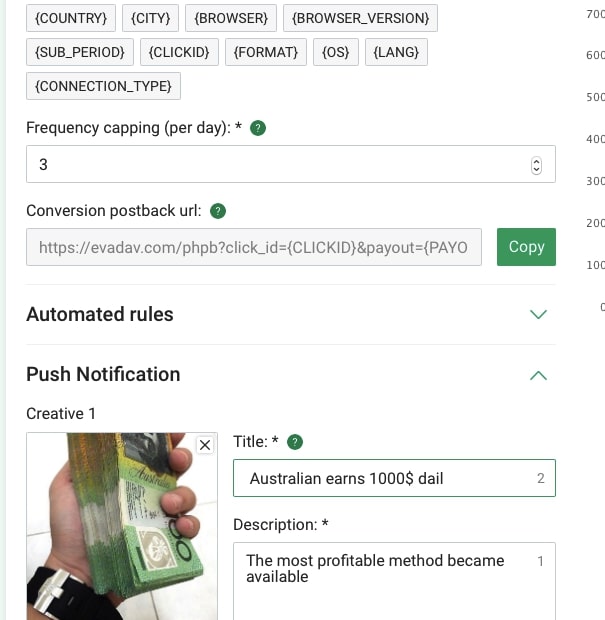 Example #2:

Title: Earn at least 370 AUD per day
Description: Exclusive auto trading now available for all Australians.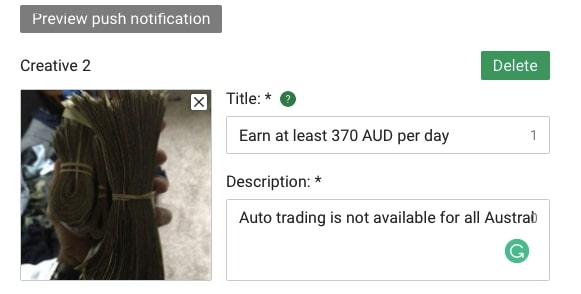 Working with traffic
Few words on the numbers. We've been working with push messages for 3 years. CR is of course weaker than on Facebook or with native ads, but if you adjust the targeting and pick up a quality offer and a nice pre-land with creatives the result will always be good.

On the format and targeting. There was only one target — the platform. We chose to target all devices. I'd like to point out that I launched campaigns for all audiences at once, without dividing the campaigns by user activity.

Overall, the audience was huge, but we did it only to test the page and creatives. From the test results, we realized these settings would bring in leads and redirected all the traffic to one pre-land. Here's a screenshot of our settings in Evadav: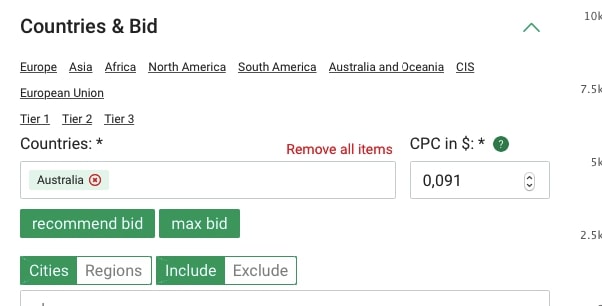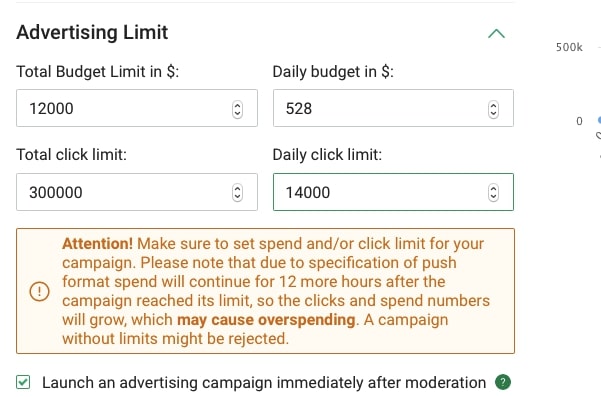 And some traffic stats:
From the stats at Evadav, you can see that the campaign worked well in the beginning, but started losing its CTR by the end. We should have changed the creatives and optimized the targeting, but at that time we had already started testing a different approach.

But this is not the story I'm telling you.

580 leads in a month is a very good result. The stats with PROX looked like this:

All in all, we spent about $12K on the campaign in a month (tests included) and got $22K. The result exceeded our expectations.
But:
— Should have run more tests, starting with all the creatives and pre-lands;
— Design more creatives;
— Optimize traffic: add other GEOs, not just Australia;
— Finalize our pre-land, so that only target traffic remains there.
We learned from our own mistakes and wish you the same.
Source: https://bit.ly/3DNd1aA
To comment or rate this article please login or create account