The hottest geo spots for crypto in 2022
Source: https://bit.ly/3r26eSS
Crypto is rushing through the planet and bringing profits to thousands of successful affiliates. We analyzed the latest data for 2022 and picked the top GEOs, which work best in terms of promoting crypto offers during this season.
According to Chainalysis's research, the popularity of crypto by country at the beginning of 2022 looked like this: Vietnam, India, Pakistan, Ukraine, and Kenya are on top of the list. The situation has changed a bit in the first quarter of this year.
Let's take a brief look at the top crypto GEOs.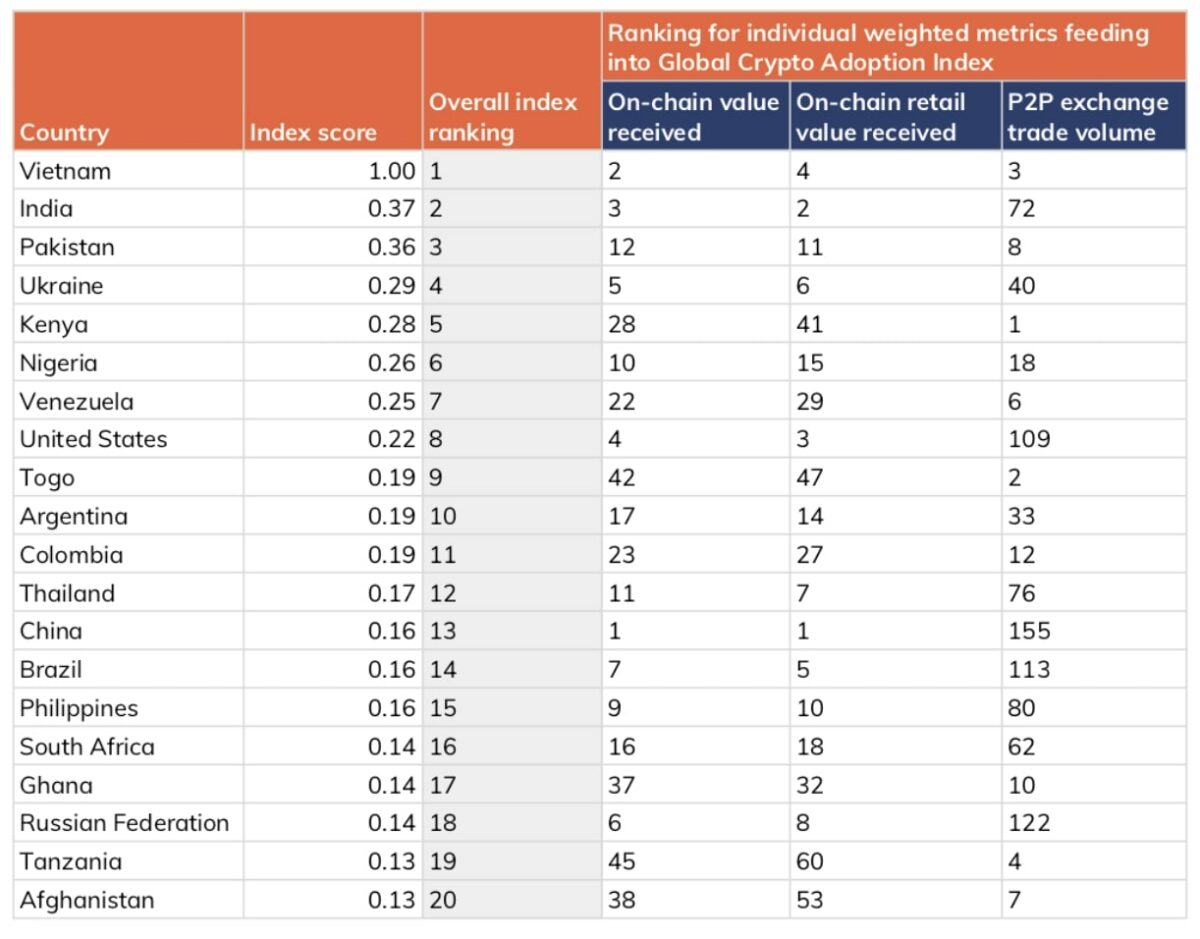 East and Africa
Crypto popularity in the Eastern and African regions grew by 60.2% from 2021 to 2022. Bahrain as well as UAE is one of the leaders. In Africa, the demand for crypto is growing steadily in countries like Kenya, Ghana, South Africa, and Nigeria. You may be surprised, but the income level of tech-savvy youth in South Africa is about $1,503 per month.
Young people's education, as well as financial opportunities in these countries, keep improving. Also, the demand for crypto is spreading along with the wide availability of mobile Internet.
The Foresight Africa 2022 statistical report shows that since 2020, countries on the African continent have managed to make significant progress in terms of crypto demand, although so far the region holds only 2% of the global value of all cryptocurrencies.
Southern Europe
The warm and untroubled European financial climate always promotes investing in crypto and getting some lazy income. Spain, Italy, Portugal — residents of these countries often do not mind taking part in any adventure. Some fun facts about the region:
The target audience here is ready to take risks and ready to invest. On average, residents of Italy and Spain earn 2,000-2,350€ per month. A somewhat different situation is in Portugal, where the average earnings are 1,200€ per month, although the cost of living is somewhat lower than in other southern European countries. Additional online earnings are very relevant and stay in demand for quite a long time.

The main source of traffic for southern European countries is Facebook. We advise you to work well on creatives because residents of these countries are cautious and prefer to think twice before they make a deposit. It's better to show them all the possible benefits of an offer right away, with detailed descriptions, numbers, facts, and answers to their possible questions.
LATAM
Brazil, Colombia, Chile, and Mexico — the Latin American region is favorable to crypto promotion. Not only gambling converts here but also various charming offers for trading and the crypto market in general. You can get consistently high payouts on LATAM offers.
Residents of LATAM earn about $500-800 per month on average. It's important to point out how simple it is to make money in your creatives because locals are very hungry for anything that comes almost for free. You can also demonstrate the possible improvement of their living conditions after they multiply their income with the help of crypto transactions.
Scandinavia and Eastern Europe
Sweden, Denmark, Norway, as well as countries like Slovenia, Slovakia, Czech Republic are another piece of cake for affiliates experienced in the crypto vertical.
Here you can get a conversion rate of about 17-20%, which is not bad at all, given the high rates and deposits.
On top of that, major Tier-1 countries like Germany, Austria, Netherlands, and the UK are still attractive for crypto verticals. Although there is a huge competition present. It will require a relatively larger budget to make a profit compared to LATAM or African countries.
To summarize
Crypto traffic is always a great idea, especially during the hot season of 2022. Top GEOs for crypto right now are Africa, the Middle East, Spain, Italy, Portugal, and LATAM regions.
Make sure you're choosing only reliable affiliates and unique offers with guaranteed payouts to earn even more from one of the most profitable verticals & hot GEO spots.
To comment or rate this article please login or create account