Swanker: The First International Ukraine-Based Crypto Affiliate Media
Hey bro 👋
We are Swanker. An affiliate platform that completes the full cycle of crypto offers.
This means we do more so that you could do less.
We gather and publish stats from brokers and networks, collect creatives, write cases and guides, and post a ton of other essentials.
So that you don't act on intuition but rely on numbers. Learn from aces' mistakes — but do not repeat them. Find deals — more and more luxurious.
Plus, save time doing all that because instead of 10+ resources, you can switch to just one.
Among the content makers: our fellow media buying teams and their combined experience, bumps, fails, first $$$ and last disappointments.
What we offer: platform overview
Let's start with the main part. Statistics.
The first thing a user gets to see and, by absolutely no coincidence, the most essential part of the platform is an exact table with the numbers you're looking for.
Featuring: the most popular GEOs, transparent CRs, traffic sources, funnels and networks and brokers that convert not just look promising. (also all of the funnels you can download from statistics.
You don't have to spend 10,000 hours searching stuff, chatting with support, searching for and requesting information. Or act head-on.
Meetmarket
Get in touch with a broker or network. Directly. No fancy words nor lush descriptions — we keep it short and to the point: deals, geos, funnels, sorses and for how long their offer will stand.
Create your own deal or choose from myriad of existing ones. We made sure there was plenty to choose from and collected networks and brokers from all over the world. And added filters for you to navigate among them.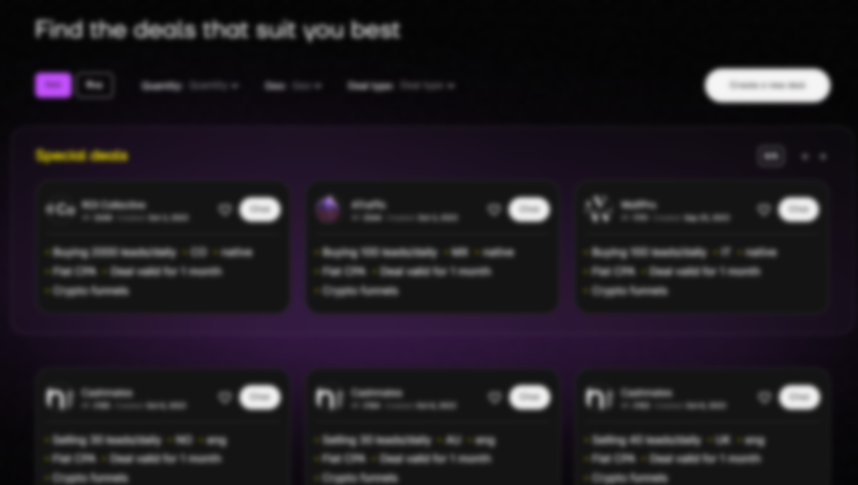 To publish deals and find partners faster, pay attention to your profile. The more info you indicate, the faster your perfect offer finds you.
Cases and stories
Save space in your bookmarks and collect cases, insights, tips, and other must-read pieces from top business sharks in our industry.
The content either comes from reliable, well-known sources or is created by the team of our writers.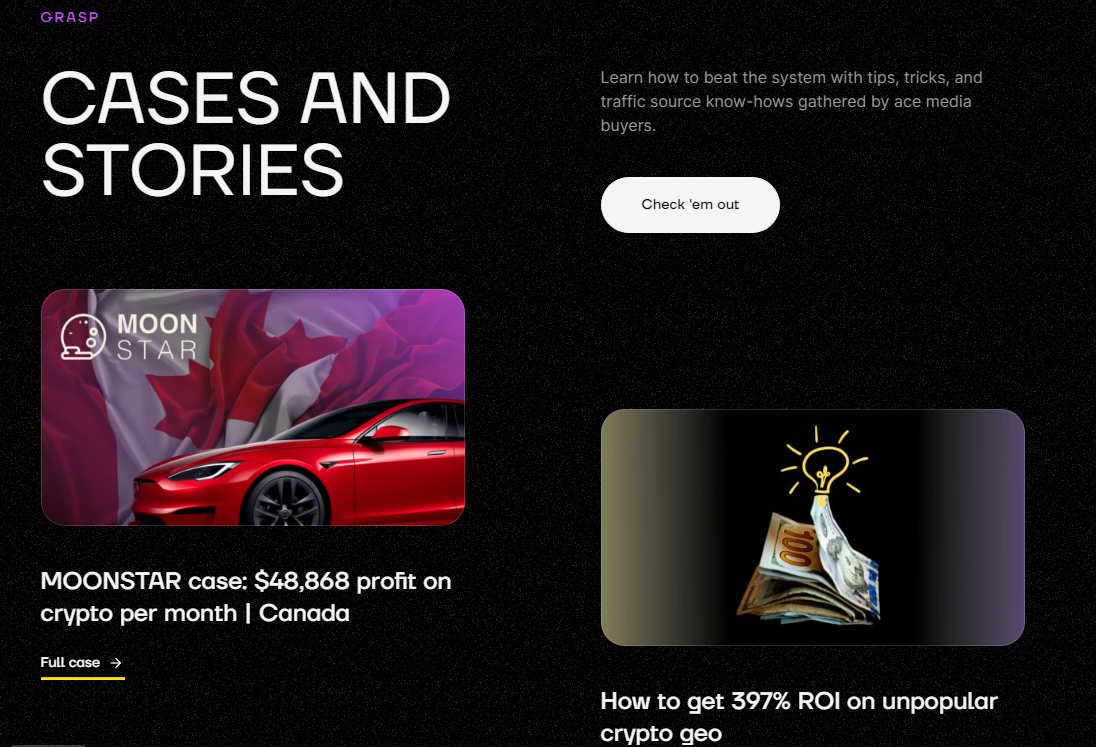 Where is the traffic coming from? What's going on with profits and GEO? Creatives that inspire — and much more. Confirmed by screenshots, reports, analysis, and other signs meaning we've got to the very core of the matter.
Just the way you like it.
Partners
The ones you've heard about but never found the contact info. The ones you already work with them. Or maybe the ones who are desperately searching for your contact details to form a solid partnership.
Do not yield to despair: choose from tens of partners who fit your parameters — and partner the best.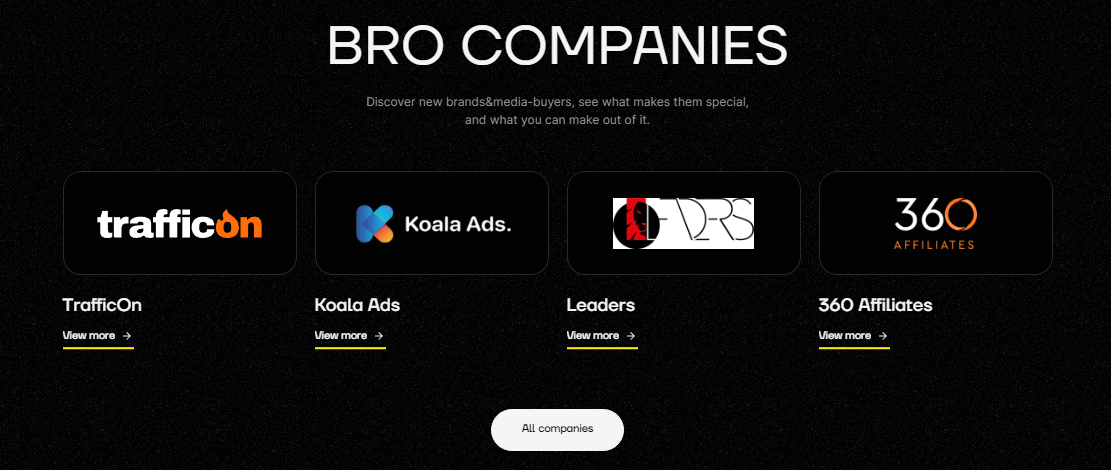 To make it easier, we prepare a brief summary for each: how good they are, years on the market, geos that convert, payment model they work with, etc. And, what's most important, what's the point of working with them anyways? Small tip: look in the "Bonuses" section.

Tools
Ad spy tools aren't cool anymore. But a single platform where you can find the hottest creatives designed and adapted for multiple geos — this is our definition of a powerful tool at your disposal.
Choose a GEO, type (creative, pre-landing or a landing page) – and it's time to collect some traffic, man.
We gather creatives that evoke emotions and will help you generate another $$$ to add up to your earnings — only the remarkable ones. Well, unremarkables, too, but only in case they bring profits.

And we know, because we select each .png with our bare hands.

Events
Here at Swanker, we respect our users and value their time.
So, unlike most corporate training courses, daily meetings, and syncs, our conferences, lectures, and meetups bring value, not just stuff your Google Calendar with pointless chit-chat.
We list events that take place offline, in an informal setting, and those not-yet-post-COVID ones that happen in Zoom, Google Meets, and whatever-Meets you want them to happen.
Before we update the list of events, we carefully look through dozens of our partners' posters and select only the prominent speakers and topics your users care about.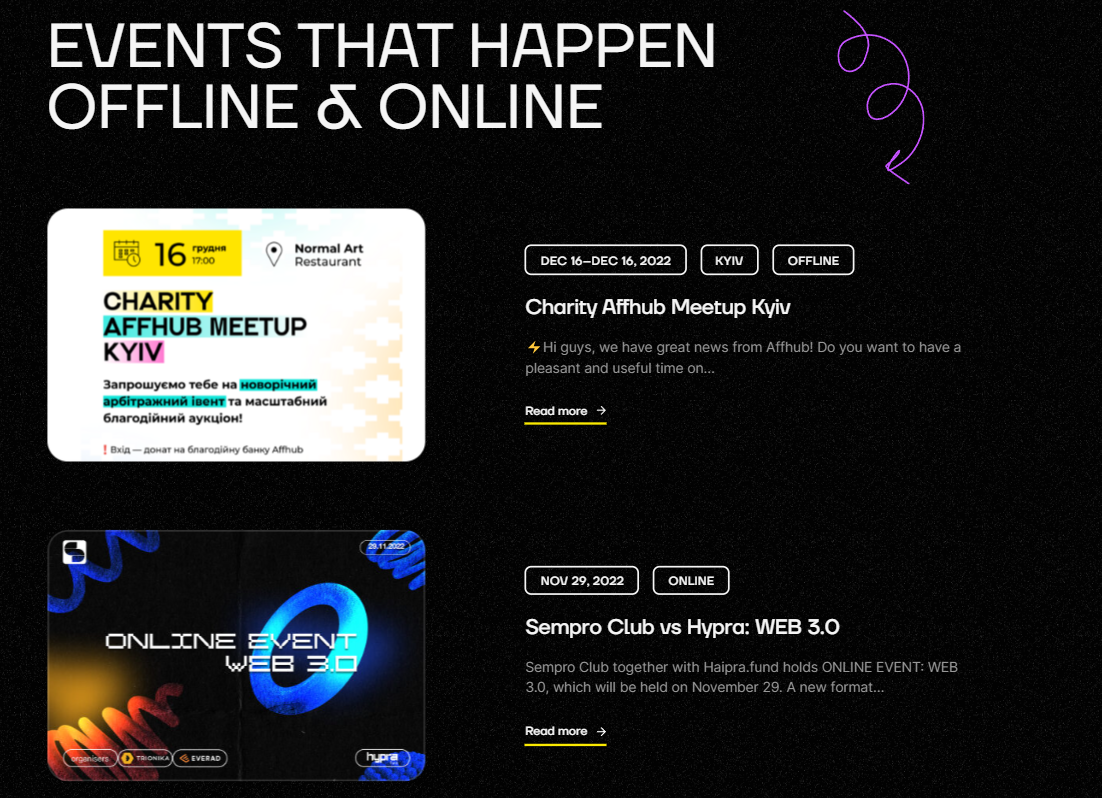 News
Enjoy your morning coffee and hear from the people who take good care of your traffic—first-hand accounts.
On sources, GEOs that convert, and facts about your target audience you never thought of. Just when you thought you thought of them all.
Don't trust foolish promises and hollow words? Wise. Wise. No more words from us — just check the Swanker platform and see for yourself.
There you will find a feedback form — we will be grateful for any feedback you can give us. Yes, even the bad type. Especially the bad type 🙂
And remember: we're always here for you, bro 🤜🤛
To comment or rate this article please login or create account