Driving traffic to crypto: where from? Going through native niche networks
Native networks are one of the most popular sources of traffic in any vertical, and crypto is no exception. Among their pros are easy moderation and a huge amount of cheap traffic.
Of course, this source has its drawbacks. The main one is huge junk and "insolvent" traffic. And since in crypto, the solvency of leads is fundamental, one of the main secrets of successful traffic directing is to find an approach to extracting quality traffic from tons of clicks any advertising network offers.
One way to choose the right audience is by limiting the placement and setting up targeting. But the chances of success are greatly increased if a network with a high concentration of quality traffic is selected initially. Not everywhere can you drive crypto traffic, and many popular networks our readers are aware of already.
So the goal of this guide is to highlight niche, little-known native networks that are suitable for crypto traffic.
Dianomi
The network works best for experienced arbitrageurs and teams, first, because of the minimum deposit — $10,000. Second, you'll have to get used to manual moderation and strict white-hat approaches.
However, several advantages put Dianomi in the top of native networks for crypto.
The network's focus on the financial niche and quality, solvent audiences among the network's placements — Forbes, Bloomberg, CNN, Investing.com, Inc, Reuters, and Washington Post.
Ability to optimize ad campaigns by site names, not by encoded id.
Performance breakdown by site with the option to disable ineffective ones.
Managers with experience in the niche, which means their advice helps in finding a bundle.
This is what the advertisements, directed through Dianomi on one of the most popular news portals, look like: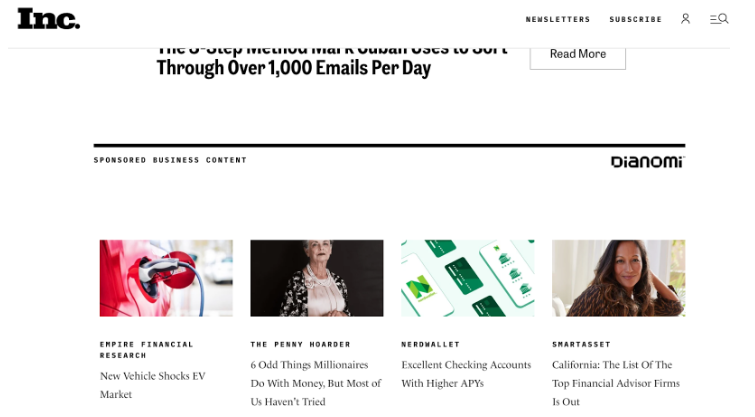 Yahoo Gemini
This network makes it possible to integrate advertising within the Yahoo search engine. The service is not popular in all GEOs, but in the U.S., Europe, and some Asian countries, Yahoo retains a significant share of the market and, therefore, a vast audience. In addition to the search engine, the company has various services, including Yahoo Finance, which is ideal for crypto.
Yahoo Gemini is easy to get started with. The interface is simple, and you can import an ad campaign from Google Adwords. The first deposit starts at $5. All popular payment models are available: CPC, CPA, CPM CPV.
Among the drawbacks are white-hat approaches; you must follow U.S. laws or bypass restrictions by the same means as with Google.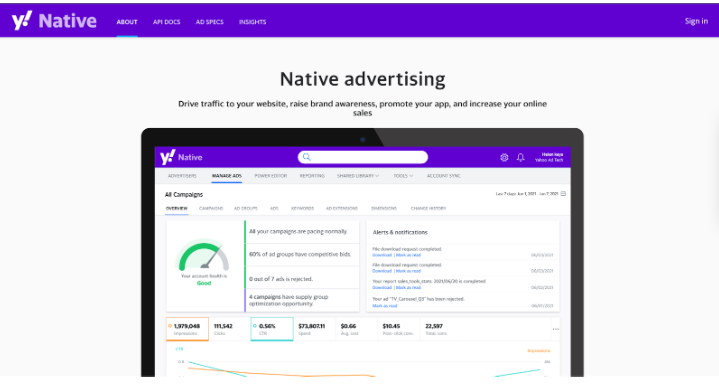 TripleLift
Another network which is concerned about the quality of its own traffic. First, TripleLift has strict requirements for connecting sites. You can find top publishers among their placements — Conde Nast, Digg, eHow. Second, the network integrates ads into content very well, using the CSS of the page and its design. Better than any words praising the quality of traffic is the fact that many big players buy ads through TripleLift: Microsoft, USA Today, Nissan, Land Rover, and others.
This network also has strict rules on posting content and quality traffic, making it desirable but difficult to drive crypto traffic. However, the minimum deposit is only $399.
The interface is quite complicated; in addition to the payment model — CPM is the only available.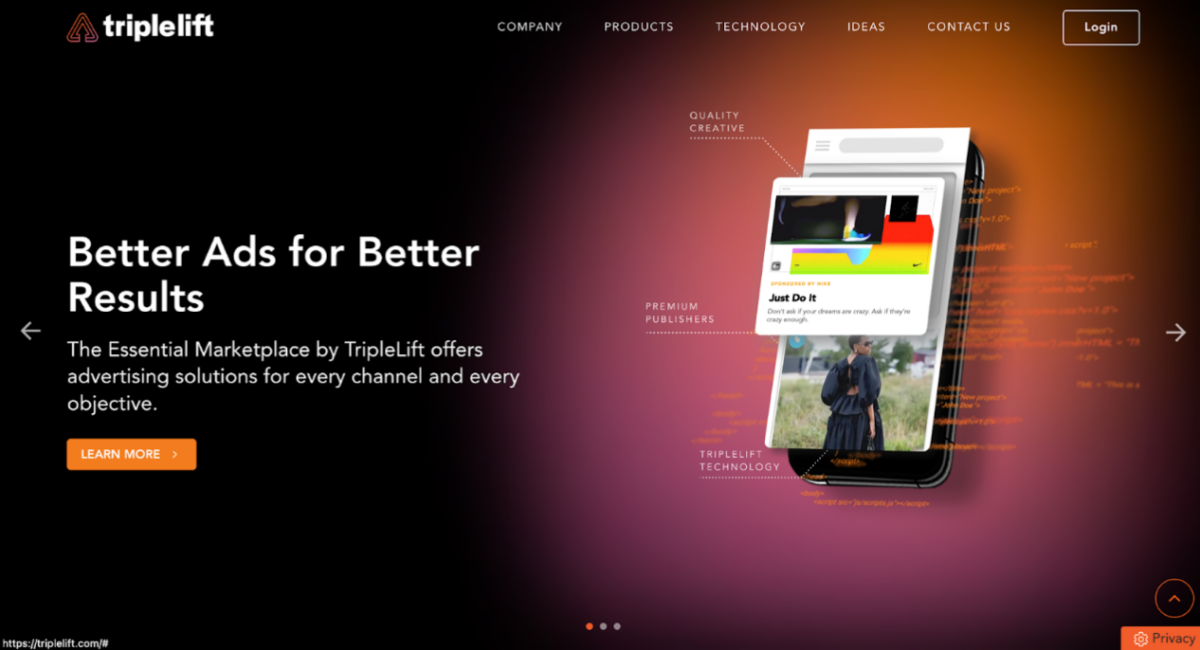 Plista
The network cannot boast of top traffic as its competitors from the list above but is easier to moderate. The volumes of views are large, and most of the traffic comes from Australia, Germany, Poland, and Russia.
It is easy to get started thanks to the clear interface and the minimum deposit of 70 euros. Among the payment models — only CPM is accepted.
Revcontent
The native network is ideal for crypto traffic, confirmed by many successful cases on the Internet. You can find a lot of quality traffic interested in crypto offers. In addition, there is another nice feature. Revcontent counts unique traffic without bots, significantly reducing the cost per click.
Many large sites are connected to the network, which are worth adding to the white list. The network algorithms are set up to work with recommended content, which is perfectly reflected in the automatic selection of sites and the final conversion. To drive crypto traffic, you need cloaking.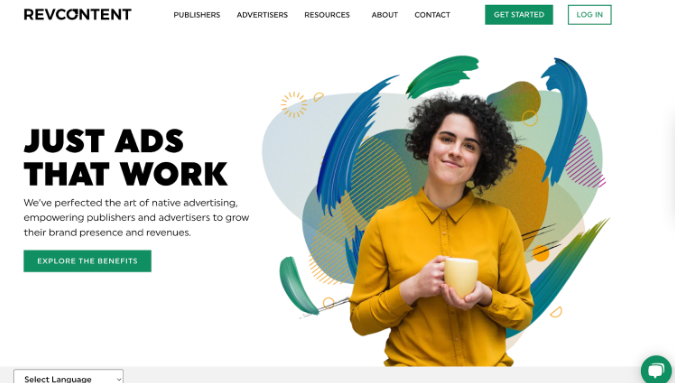 Other native networks
There are other networks that can be used for crypto:
Adnow. It is possible to drive traffic anywhere without cloaking, but it's better not to apply the "celebs" approach;
Adskeeper. Lots of traffic from LATAM and Asia;
AdUp. Suitable for the German-speaking audience. Traffic comes from Germany, Austria, and Switzerland;
TripleLift. Traffic from all over the world, including Africa;
Tonic. Easy-to-use network for US, EU, LATAM, and Asia geos. A cloaking service is required;
AdYouLike. Traffic from around the world and major brands are advertised through the network, which shows the quality of traffic;
AdCash. Possible to make adjustments through the analog of look-alike, which increases the conversion rate;
EvaDav. Network with a massive amount of traffic from Germany.
In conclusion

Many interesting traffic sources for crypto are not discussed by a broad audience and therefore are not well known. At the same time, there are many profitable options among native networks.
A new traffic source often increases profits if you take the time and resources to master it and run basic tests. The list above will be helpful and help to get good earnings from crypto offers.
To comment or rate this article please login or create account